Case Study 7 >>> 1
PN Logger - High Speed Hydrographic Analogue Data Logger
ESL and Collins Software Services have developed PN Logger a high speed analogue data logging version of the survey grade Portable Navigator It incorporates support for two different analogue "front ends" covering high accuracy, 24 bit resolution at lower speeds from PICO Technology and fast 16 bit resolution at high speeds of up to 30 samples per second from Data Translation. It provides position interpolation from the GPS input. Also supported is high speed digital data input via NMEApro at up to 38400 baud.
PN Logger is ideal for magnetic survey work in Intertidal and other difficult or dangerous environments at higher speeds using hovercraft or wheeled land vehicles. Examples of applications include Mine Clearance and Pipeline Routing. An array of up to 4 magnetic transducers can be boom mounted ahead of the vehicle or towed as an array with the geometry specified. The transducer outputs are recorded together with the transducer positions calculated and interpolated from the GPS antenna position. Swathe plotting is provided for monitoring ground coverage..
| | |
| --- | --- |
| | |
| Chart Display with Transducer Boom and Swathe Plot | Transducer Boom Geometary Configuration Dialogue |
The software also has automatic magnetic environment and heading correction and calibration to remove errors caused by the vessels magnetic footprint and its interaction with the earths magnetic field.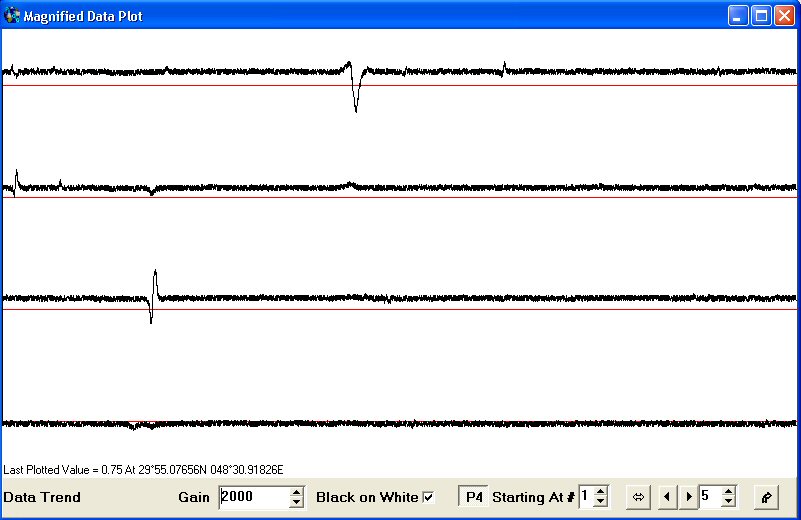 Four Transducer Plot Using Data Zoom to Show Fine Detail
For more information please contact ESL or Aquascan International
Return to the ESL home page.